Our Background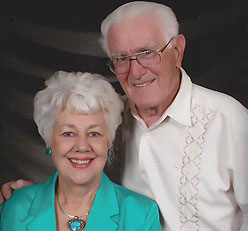 Although Bill McConnell is from Oklahoma and Fayth McConnell is from Illinois, they met when they attended high school together in Ventura, California.
Bill is an experienced builder, roofing contractor, and building inspector, having owned a roofing and construction business. Fayth is a trained and an experienced secretary, bookkeeper, office and business manager.
Bill and Fayth have planted and pastored four churches. They also have been in evangelistic ministry, directors in a street mission, and camp directors working with abused and neglected children. Prior to their missionary appointment, they worked five years in Mexico, building churches and establishing medical clinics, holding seminars, revivals and speaking at conferences.
The McConnells were appointed as Harvestime missionaries for Open Bible in 1998. They have been instrumental in helping the establishment of the Men's Rehabilitation Ranch near Nogalas, Mexico, where they minister to men striving to come off drugs and alcohol. Graduates of this center have started another rehabilitation center.
God has blessed the McConnells' ministry and opened many doors to them. In addition to the rehabilitation ministry, they also minister at a women's prison, where they have seen many salvations. They hold children's outreaches with puppets, songs, videos, street fairs, making use of their ministry trailer. They also make cement blocks for church construction.
The McConnells have three children, eight grandchildren and 5 great grandchildren.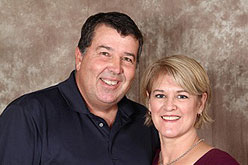 Del was born in B.C. Canada and grew up in southern Oregon. In 1973, Del accepted Jesus as Lord and Savior at Lighthouse Tabernacle in Rogue River, Oregon, where he became a roofing contractor.
Joy was born in Ventura, California and grew up in Rogue River, Oregon where her parents, Bill and Fayth McConnell, served as the Open Bible pastors of Lighthouse Tabernacle. Del and Joy met in high school and were married in 1974.
They have two grown children. Their daughter, Tami Lundquist, is married and had two beautiful daughters and lives in Grover Beach, California; their son, Aaron, is single and lives in Santa Barbara, California.
The Browns moved their family to southern California in 1983 and became involved in a large church in Lancaster. In 1986, Del began attending Berean School of the Bible, and in 1991 was ordained in the Assemblies of God.
Over the course of 18 years, Del served on staff at Lancaster First Assembly as a Children's Pastor, Youth Pastor, Singles Ministries Pastor and the last eight years as Senior Associate/Administrator Pastor. Del resigned in May 2006 to assist and support the McConnell's in their ministry in Mexico.
Aside from serving with her husband on staff, Joy has also served in leadership, teaching, counseling and working with Women's Ministries. The last six years at Lancaster, she worked as the church receptionist. Del and Joy served on the district level together, organizing and going on mission trips to Panama and Mexico.
In May, 2007, Open Bible granted the Browns a Harvest Missionary appointment to Mexico. They are part of the team at God Is On The Move where they are involved in prison ministry, orphanages, men's rehabs, building churches and facilities, etc. to advance the kingdom of God.