Get Involved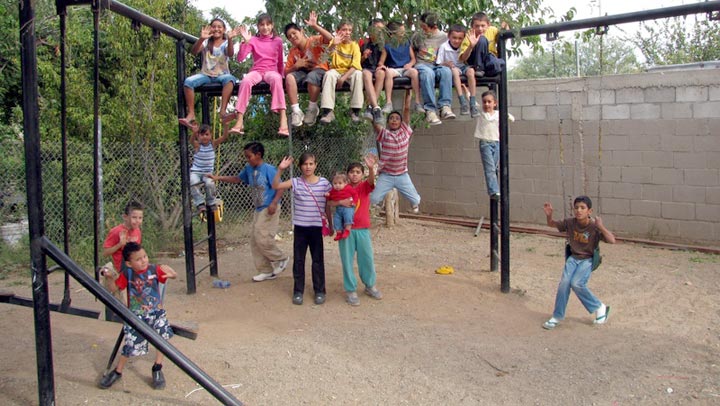 Are you interested in a short-term missions opportunity? We would love to have you and a group from your church assist us in a project here in Mexico.
On a short-term missions trip you can raise funds and work on a project, conduct ministry at our women's prison, men's rehab, orphanage, day care center or you can do kid's outreaches. There are many opportunities to be a blessing. Our short-term missions trip are, 5-7 days long which allows a day travel here and a day travel back home, & shopping in Mexico. Each mission trip is especially coordinated for your team based on what your abilities are for ministry, work or trade skills and the funds you bring.
No two teams are the same so we will work with your coordinator to plan what best suits your group. If you plan to fly here Tucson would be the airport that you would fly into. Please book early so we can get you on our schedule as we are usually booked 6 to 9 months in advance. For information call or email us. Blessings!
Pray always for our protection, our health & strength so we can continue to do the things God has called us to.
Pray for strength, courage, provision and protection for the women who are being released from the women's prison.
Pray that God would resolve the violence & issues in Mexico.
Pray for our prison ministry. That God will continue to touch them spiritually and meet their needs. That we will see a move of the Holy Spirit in a greater measure.
Raise funds and coming in small groups to build projects and minister
Need funds to staff leaders to help with the ministries in Mexico
We are looking for more teams of people to come down on short-term mission trips to work with us on projects and to do ministry in Northern Mexico
Spanish NIV Bibles and Spanish Tracts
Underwear and socks for men, women & children
New tennis shoes
Save items from hotel trips: toiletries as well as coffee, cream and sugar
Beanie babies and small stuffed animals
Small toys from anywhere like Mc Donald's/Burger King
Sweat shirts for men and women (new or very well cared for).
Towels and wash rags
Curriculum in Spanish
Buy aprons to support our orphanage
Christian movies in Spanish
Need disposable diapers for adults (elderly handicap ministry) and babies (at the orphanage)
Help making blankets
Need materials, lace, rick rack, thread to make aprons for orphanage